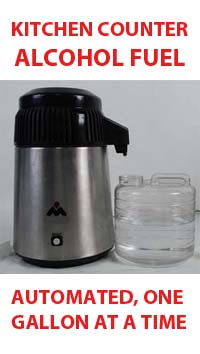 First: Welcome to our NEW Email Members from TSP and BeforeTheStormHits.

The 1 Gallon Home Alcohol Fuel Still
* 100% Steven Harris Approved and Method Developed by Him.
* 1 Gallon Pot Ethanol Alcohol Fuel Distiller (Still).
* Automated with a Simple Timer.
* You can NOW MAKE real FUEL at HOME.
* Works in your existing Gasoline Vehicle.
* Save Money - Spend it on your Kids.
* Your Neighbors will be in Awe that you can make fuel.
* Easy Step by Step Video Instructions. See them Now.

www.iMakeMyGas.com <-- FREE 22 Minute Video on Making Alcohol
The distiller I am using was normally ONLY used for making moonshine, but I saw the genius in the little thing and I got it automated. I now can process three 1 gallon batches a DAY. NO cooling water is needed. Just fill it up and plug it in the wall with a timer and its ready to RUN. That is it.

AUTOMATED - I Run Mine 3 Times a Day.
I just set it up and walk away, when I come back home the alcohol is sitting in the jug waiting for me. I set mine up to run:

1. Before I go to work.
2. After I come home from work.
3. Before I go to sleep.

So while I am doing something else, I'm having fuel made for me at home.
www.iMakeMyGas.com <-- See the Distiller Dripping Alcohol... see it making the Alcohol Fuel
VIDEO INSTRUCTIONS - HOW TO - DIY VIDEO
Plus I did a whole Steven Harris Video on the purification of the Alcohol Fuel (getting the water out of it) and then mixing of it with Gasoline to Run in Your Car Today, with no Modifications to the car.

I Am the ONLY Person in the Entire World to have a video that shows you exactly how to use Zeolite (and I supply it) to make 99% pure Ethanol Alcohol Fuel and I am the ONLY person in the world that has a video that SHOWS you HOW to remove the water from the Zeolite (with an oven) and to re-use it hundreds and hundreds of times.
www.iMakeMyGas.com <-- See Step by Step HOW to Ferment Alcohol at home.

I've told you for an entire YEAR that I was working on this. It is FINALLY DONE and its ready for you in Time For Christmas. I have a WHOLE COMBO package to save you on buying EVERYTHING at once. Now is the time to get this before all of my black Friday shoppers scarf them up.

Like I said, this was only used before as a MOONSHINE still, for the manufacture of illegal spirits (Vodka). Yes, it still makes Moonshine and YES its still Illegal in the USA to make distilled ethanol for drinking. The permit to make distilled ethanol for FUEL is free from the Federal Government. Details on the website. If you are going to travel to some far off 3rd world country where you want to make your own Drinking Alcohol, you just need the still and the measurement kit.... you don't need the zeolite, just watch the video at the top of www.iMakeMyGas.com
All my Best...and as always, thank you for being one of our subscribers and customers, we could not do this without you.
Steven Harris
CEO KnowledgePublications
http://www.USH2.com